Hey ya'll it's Diva Meesh!I
am here with some lovey-dovey Valentines style Disney for ya!
Today I am sharing the magic of getting engaged at Disney!
Now there are so many ways to do a Disney engagement, but I'm going to focus on 2 ways to do a Disney engagement today!
The 1st is going to cost you less but will require way more leg-work on your part and the 2nd will cost more but will be in true Disney style!
Option 1: This is the engagement where you have freedom to choose a time, place etc.
you have the ability to spek to any photo pass photographer upon entering a park and sharing your plan where they will help you orchestrate your idea!
There are many places this would be fun!
Magic Kingdom:
-Cinderella's Castle
-Your favorite ride
-Under the Walt Disney statue
-Main St.
Animal Kingdom:
-The Tree of Life
-On a safari ride (say something corny like "I'll take you on the ride of our lives"! )
Hollywood Studios:
-In front of thenTower of Terror
-In front of the Fantasia Hat
-During Fantasmic *may be difficult to take pictures
Epcot:
-In any of the different countries
-Coral Reef Restaurant
-While Soarin'!
-Each hotel has great spots...
Grand Floridian's staircase
Balconies
Restaraunts
Pools
Beach at Disney's Beach Club Resort
The Boardwalk at Disney's BoardWalk Inn
The walkway to the Wedding Pavilion
Option 2 is broken up into 3 sections -- Simple and Romantic, Signature Disney & Over the top
Simple and Romantic:
-Music assisted engagement -- exactly what it sounds like, contact the manager at Jelly Rolls (

407) 560-8770
and they will assist you with this.
-Equestrian proposal: Contact the Fort Wilderness Resort and Campground to work on this

(407) 939-7529
-Want to add a Tiara or or Glass Slipper? Contact
Dream Maker at 407-WDW-GIFT
-This is the one I can speak of the best because this is how I got engaged -- I will explain it first and then share some pictures!


-Be our guest - have your room romantically decorated - visit disneyflorist.com
-The Sparkle In Your Eye -
take a firework cruise show and pop the question there
(407) 939-7529
-A Wild Wedding Proposal - Popping the question during the Sunrise Safari that shows a private view of the
animals
between Disney Animal Kingdom and Disney Animal Kingdom Lodge
(407) 938-3000 and ask for the Concierge Services
-Enchanting Wishes - You get to pick the location and get a wish bracelet and Pixie Dusted Rose and waiting for you in your hotel room will be sparking juice and toasting glasses Disneyflorist.com
-The Royal Treatment - Getting engaged at Cinderella's Royal Table in Cinderella's Castle or have your resort room transformed into a personal fairy tale to pop that question! Disneyflorist.com
Engagement at Cinderella's Royal Table:
3 course meal including soup/salad, meal choice and dessert, the dessert is presented on a covered silver platter. As you are looking at the very pretty platter your fiancé to be will get down on his knee and ask for your hand in marriage! The entire event will be captured on film for you to view/buy at your own convenience. You will leave with toasting glasses, an engraved glass slipper and hopefully a left ring finger weighing a bit more ;).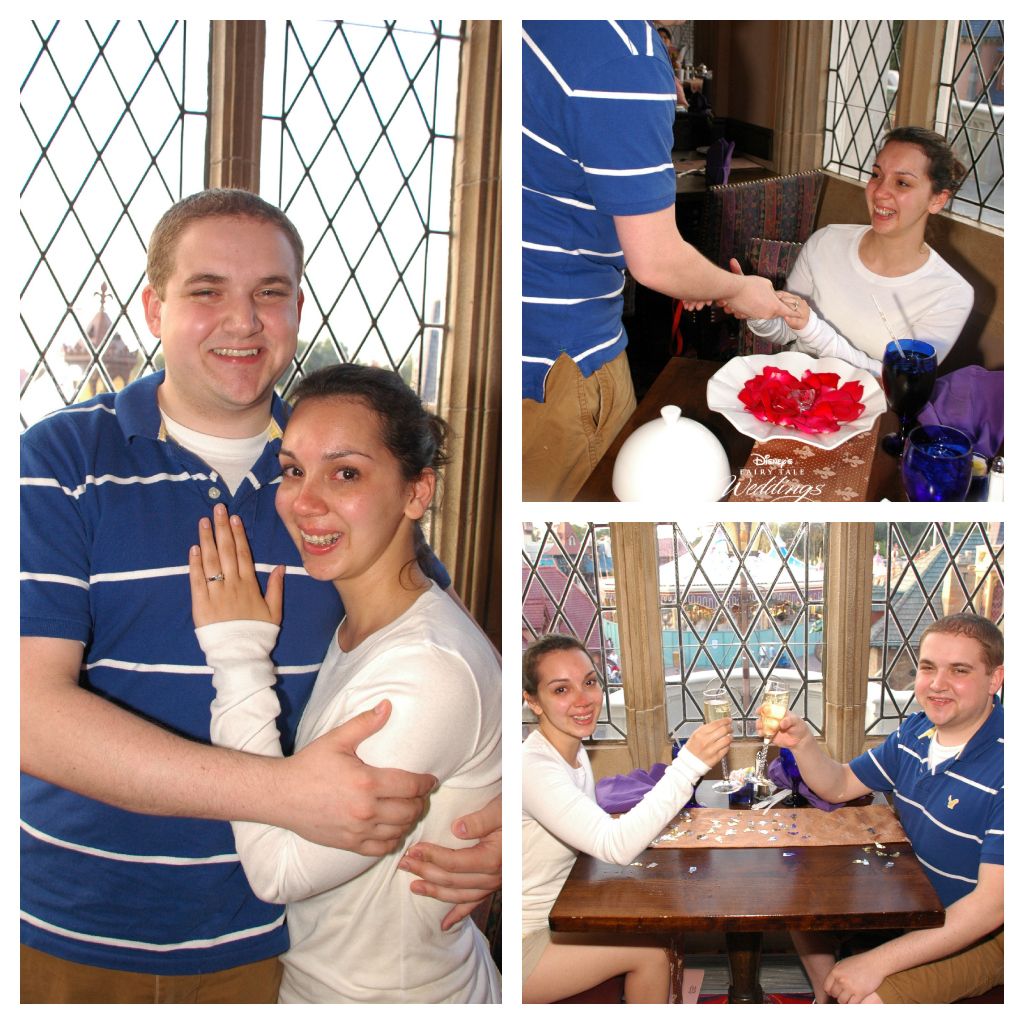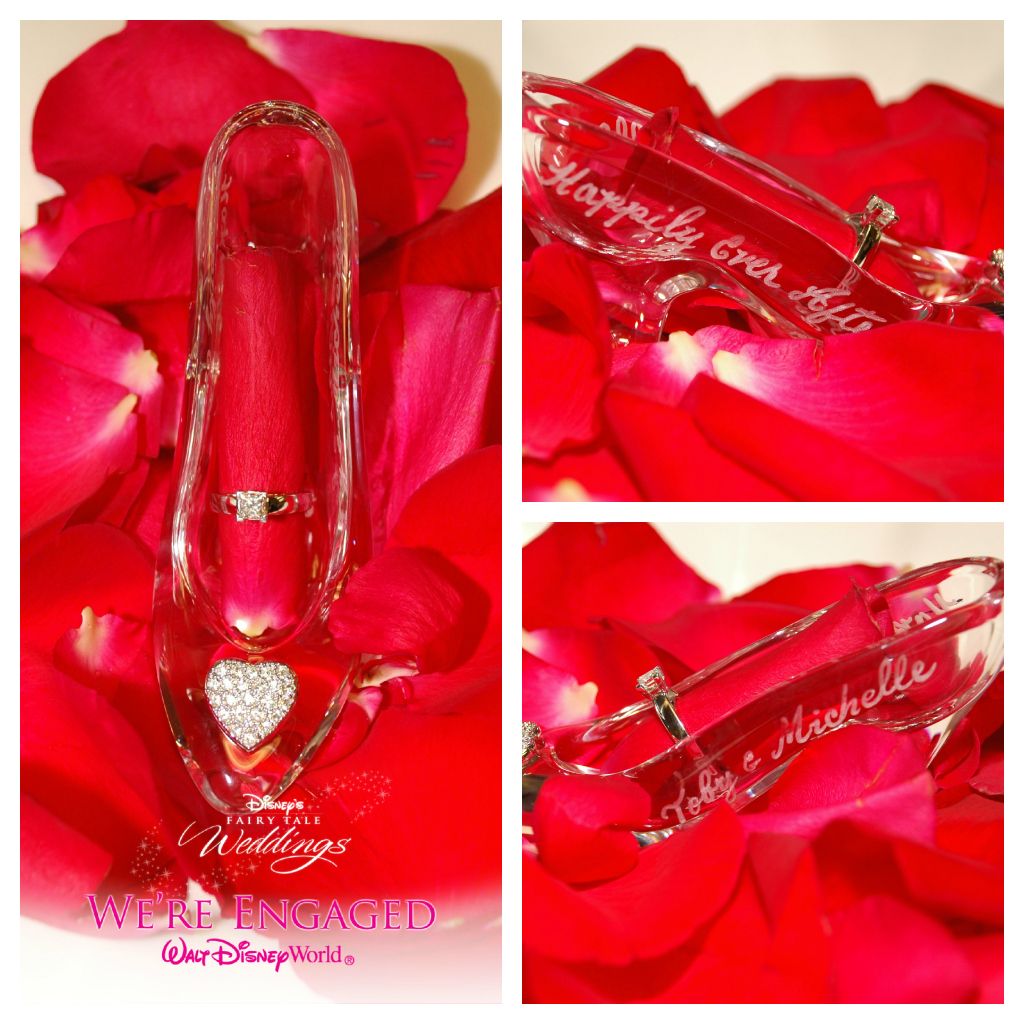 Over the Top:
-A Grand Idea - get engaged aboard a yacht that you rent from the Grand Floridian Resort and Spa (can fit up to 13 people to make a celebration of it!)
(407) 824-2682
-An Intimate Engagement -
Privately
catered on one of many Disney spots
-The Ultimate Happily Ever After - 2 dozen 4 foot roses the night before, the night of propose during Wishes and return to your resort that has been transformed by the Fairy Godmother herself! Disneyflorist.com
So there are many options that will and can fit into anyone's budget, theme and creativity level!
Use your imagination and do what will be most special for you!
Best of luck and Happy Engagement!!
Diva Meesh
♥ CONSIDER SHARING THIS POST WITH YOUR FRIENDS IF YOU LIKE IT ♥
[
Get this Widget
]