Part 7 of Nick the Disney Devo (tee)'s trip to Alaska on the Disney Wonder. To catch up, please click HERE.
Sunday, June 3rd
I was up early, but felt much better after having an allergic reaction to the lobster the night before. We had a character breakfast at Parrot Cay, but sadly, Flynn had come down with a bug, so only Todd, Barbie and I went.
Mickey, Minnie, Pluto, and Goofy were dressed in their Hawaiian finest.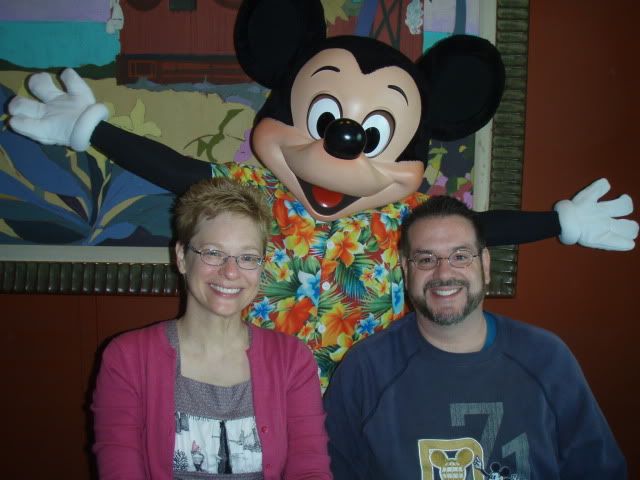 All the servers were making hats for the guests.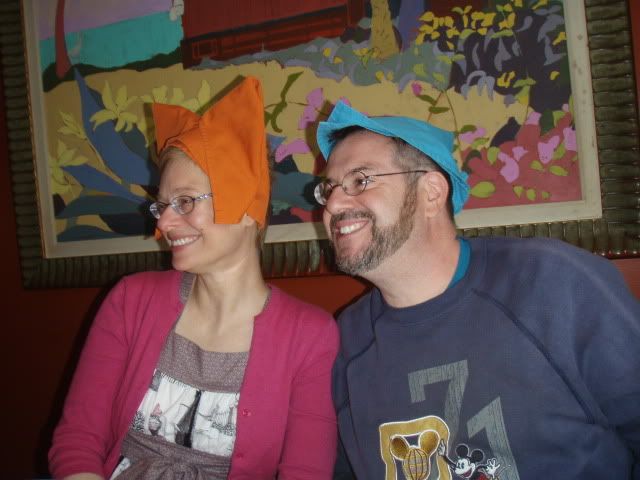 Barbie and I then went to the Walt Disney Theater, to see the naturalist give a talk on whales, while Todd went back to tend to Flynn, while Meghan and her mom joined us for the presentation.
Afterwards, we picked out a couple of complimentary 8×10 photos at Shutters that were part of our package, booked through AAA.
Here is my one major complaint about the cruise.
They print out photos taken throughout the cruise with characters or in front of back-drops, or of a special evening, such as Formal Night, and display them in Shutters. But you have to buy them, at insanely inflated prices, or if you choose, you can discard them. Why not just let people have their photos! They already printed them. We paid thousands of dollars!
Aaaand, we had a free 6×8 picture in our package, but were told that none of the pics we had taken could be printed at 6×8! If we chose, we could have applied the cost of a 6×8 ($12.95!) to an 8×10 ($19.95!) I was pretty aggravated at this and needed to put myself in a time out. No, really, I was hot. So make sure you take PLENTY of pictures yourself!
We went to the "Mickey 200" at Wavebands, and that cheered me up. We had to build a race car out of a carrot, a potato, and 4 wheels with nails to hold them in. We named ourselves the "Carolwood Classics" team. We intended to make a train, but decided our design was more of a "hot mess". We lost our heat.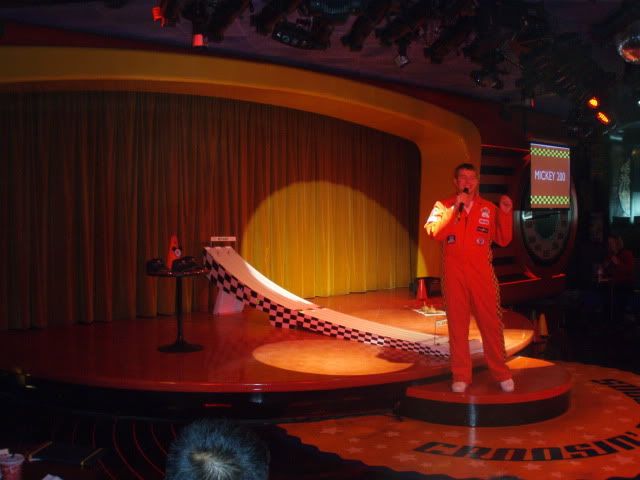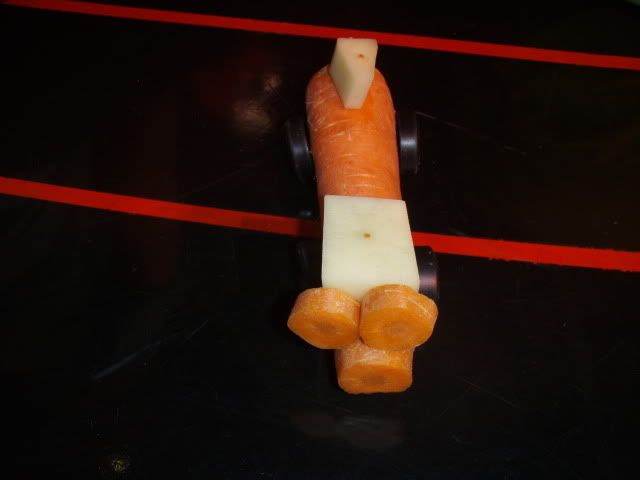 We had lunch at the Buffet, and afterwards, walked out on decks 9 and 10, enjoying the absolutely spectacular weather, and whale watched.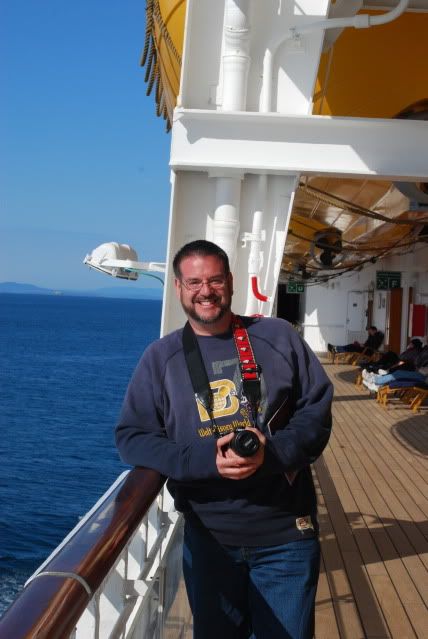 Within minutes, we spotted 4 Humpbacks, a pair of Porpoises, and a sea lion.Then, all was quite for a while. We walked the decks, and met many nice people, also enjoying the day and wildlife watching.
Finally, at about 430, after not seeing anything for over 2 hours, I turned to my wife to ask if we should head in, when her eyes went wide, and she gasped and pointed.
I turned just in time to see a great big splash, followed by a couple of quick little peaks of an Orca's dorsal fin! I had missed a breaching Orca in that split second! Oh, the humanity! It came back up for a second, and I didn't even get a decent picture! We sat outside for another half hour, and nothing!
To console myself, we went inside, and booked another cruise! Well, actually, we put a "place" on one, meaning we booked one we will almost certainly not take. We are already pretty much booked up vacation wise for 2013 already, and the 2014 dates aren't out yet. As soon as they are, we will cancel and rebook. Doing this gets us a $200 credit, and 10% off the cruise.
By now, it was dinner time, so we headed in to eat at Parrot Cay.
The ship docked in Victoria, Canada for a few hours this evening, but we didn't get off, and we were glad we didn't, as the boat didn't let people off until 7pm, with an all aboard time of 10pm.
We finished dinner, and then headed to Studio Sea, and watched the Disney trivia game show, "Mickey Mania".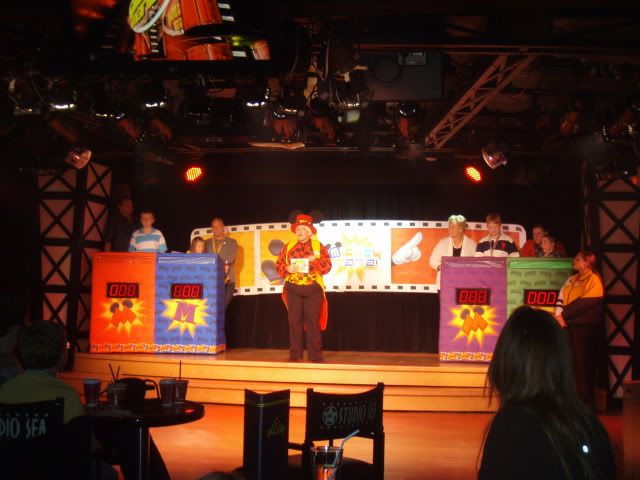 We went back to the room after this to pack, with the intention of watching the evening show "Remember the Magic, I Final Farewell" on our TV, but it wasn't on! Other shows, such as "Toy Story" were broadcast live, but for some reason, this was not, and I was sorry we missed it.
We finished packing, and I took a couple of Tylenol PMs to sleep.
Monday, June 4th
We both got up around 6:15am, and met our group at Parrot Cay for our last breakfast. Flynn was doing much better.
Disembarking was very quick and efficient and we were saying goodbye to our group, and hoping into a cab in no time, getting to the airport by 9:45am. All of that would have been really great, if we'd had a flight earlier than 2:55pm! I had no idea how long disembarking would take, and had booked this later flight in case there was any issues. Live and learn.
Then, to make things even worse, our connecting flight in Denver was an hour late. We boarded, pulled onto the runway and sat for 15 minutes. A woman was having a panic attack, so we returned to the gate! 45 minutes later, we were finally airborne.
We got home at 3am!
It was an absolutely amazing trip, despite the little hiccup at the end, and the lobster incident, and I would recommend this cruise to anyone!
Hope you've enjoyed my trip report and thanks for reading!
Nick is co-writer of the Disney Musings Blog with his wife, Barbie.