Hi readers, Nick the Disney Devo (tee) here.
My wife and I recently returned from a Disney Cruise to Alaska aboard the Wonder, and I thought I'd share my experiences.
Who went?
Me
Barbie, my wife
Todd, friend
Meghan, friend
Flynn, Todd and Meghan's son, our Godson
Karen, Meghan's mom
When?
Saturday, May 26th – Monday, May 28th in Seattle
Monday, May 28th – Monday, June 4th on the Disney Wonder
My wife and I met our friends in Seattle on Saturday, May 26th, and spent the next couple of days enjoying the sights.
Monday, May 28th
We headed for the Port of Seattle at about 11am.
I was super excited to see The Wonder! Our first cruise! Wahooo!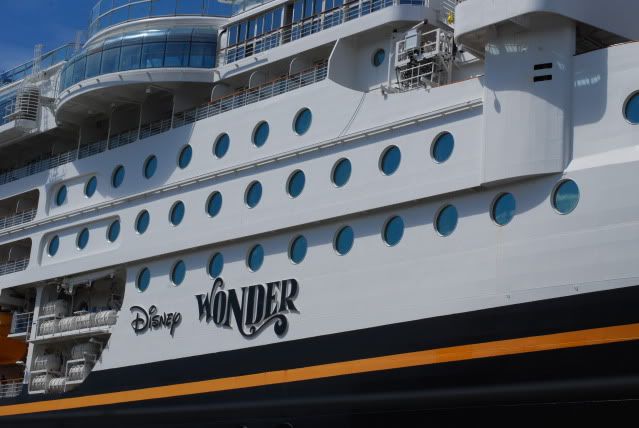 As we were there at 11:15am, the boarding process went pretty quickly. We literally had just finished with security and getting a picture, when they started boarding.
Left to right: Karen, Meghan, Flynn, Todd, me. Barbie was taking our picture while the "pro" also took it, and not one photo has us all looking in the same direction!
We were on board by 12:15pm, and started to wander the Wonder. We explored the ship, taking lots of pics while it was relatively empty.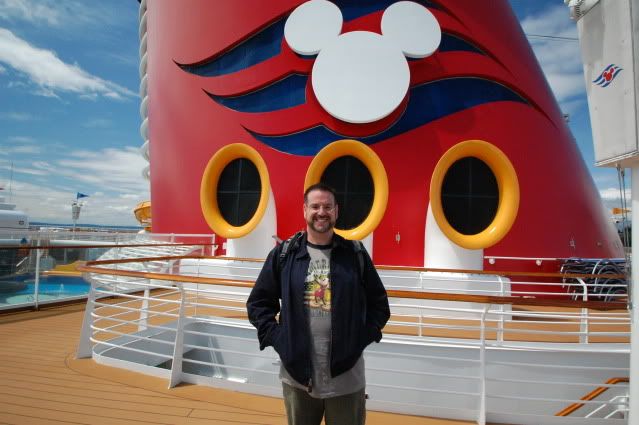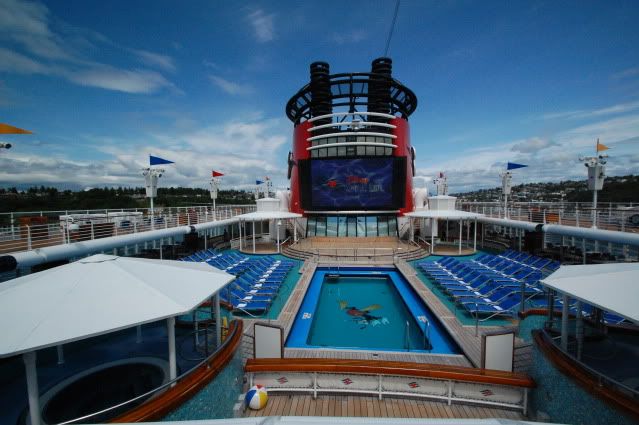 Lunch was just snacks from around the deck 9 area, such as pizza, hot dogs, sandwiches, and soft serve ice-cream.At 2:30 it was announce that our state rooms were ready. We all headed to our respective floors. Barbie and I went for the low frills inside stateroom. 6143.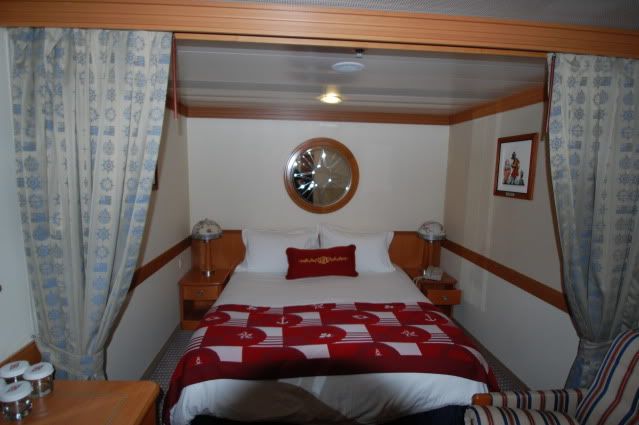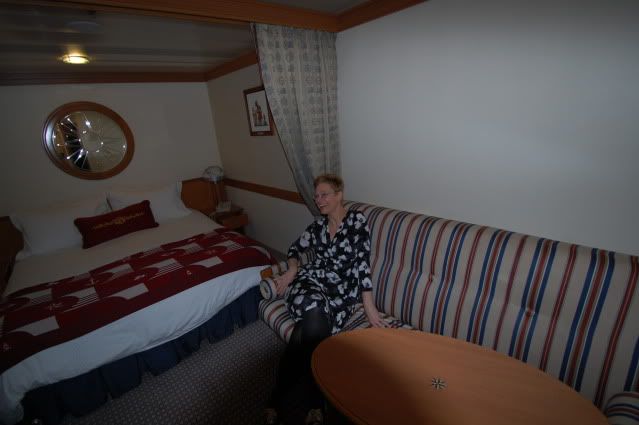 We were right next door to Karen, who was in 6145. From what I gather, the rooms are a good size. I have no frame of reference, but we were completely fine with it. Later in the cruise, we did wish we had splurged on a veranda, especially in Tracy Arm.
We unpacked and went to check out the route we would be taking for our mandatory boat drill at 4pm. Our emergency station was in the Artist's Palate, so we got to check it out completely empty!
After this, we headed up to deck 10, and had fun dancing and watching the crowd on deck 9 during the Adventure's Away party.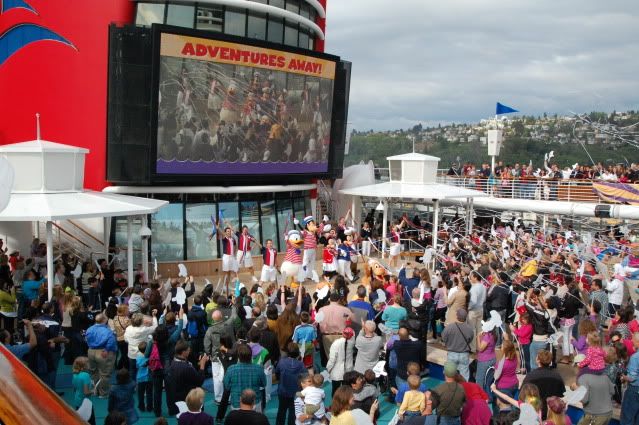 We even made it on the screen!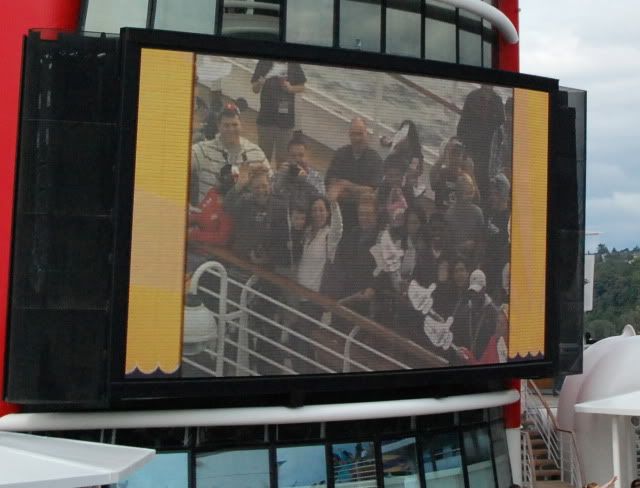 2 People in you'll see my wife, Barbie waving, me taking the picture, Meghan holding Flynn and waving, Todd and Karen.
We stayed on deck for a little while as we set sail from Seattle.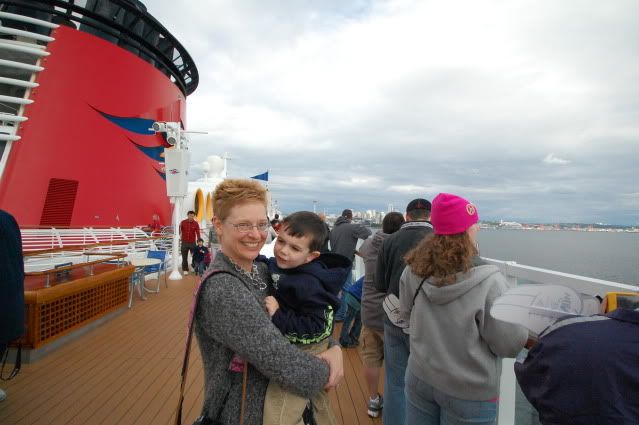 Just as we got inside, a line was forming for pics with Captain Mickey.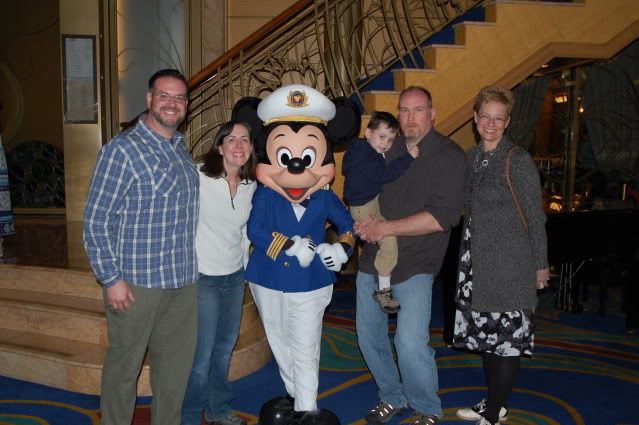 By now, it was almost time for dinner at Triton's.
I've heard and read mixed reviews on the cruise food, but honestly, I enjoyed everything I ate that night, to lesser or greater degree.
And our servers Yayan and Quacey, were awesome. We actually miss them! They brought us out a little cake and sang to us for out Anniversary.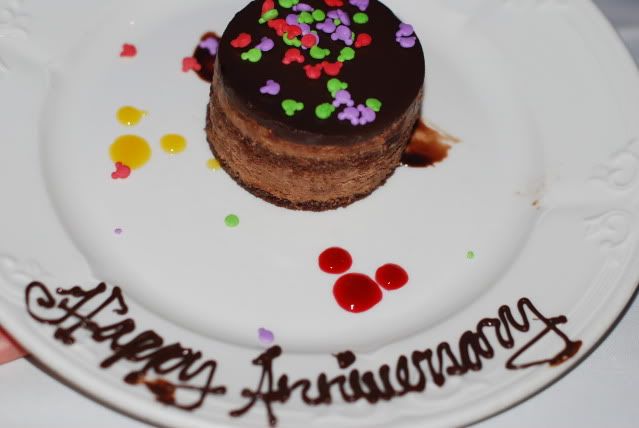 Our group headed in different directions after dinner, and we went to the pin station over by the Walt Disney Theater.We picked up a few limited edition pins. By then it was time for the All Aboard: Let the Magic Begin show at the Walt Disney Theater.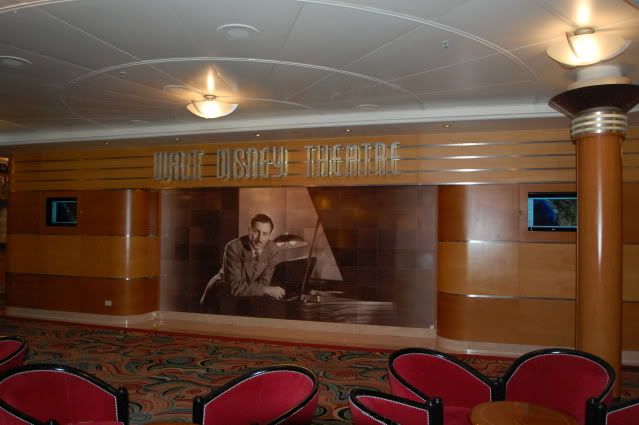 This was a fun show, and we learned some important info from our Cruise Director, Christian.By then it was 9:15pm, and we were pooped. I took a couple of shots of the beautiful dusk sky, and we headed back to our cabin.
Please stop back next Wednesday for day 2!

Nick is co-writer of the Disney Musings Blog with his wife, Barbie.