Author: Nick the Disney Devo Photos: Nick and his wife, Barbie
Its nice to know what other people are doing on their vacations to get ideas for our own! Check out Nick's trip today and tomorrow! 
Day 1: Sunday, October 7th
My wife and I flew out early, and took Magical Express to our resort, Saratoga Springs. It was our first stay at this massive DVC resort. We checked in, and were told we'd be in the Grandstand area, but the room wasn't ready, so we walked around the resort, taking pictures. While we waited we enjoyed breakfast sandwiches at Artist's Palette then headed to the pool for a swim.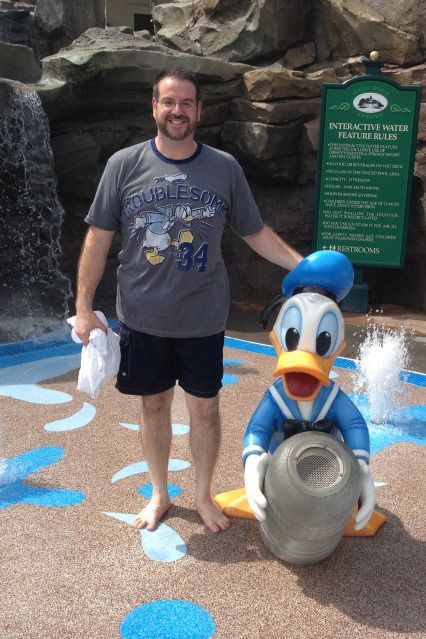 I ran into a Facebook friend who recognized me. This isn't the first time this has happened, and it never ceases to amaze me!
After that, we took a boat over to Downtown Disney for a couple hours.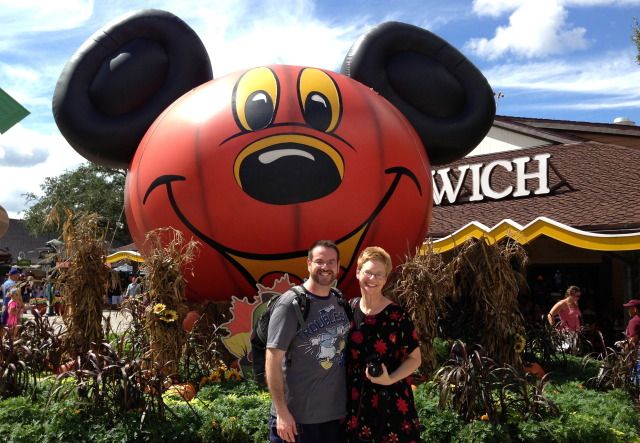 Had dinner at Paradiso 37, our first time.
We got the P37 Nachos, and Central American Crazy Corn, both really good. I also had the P37 Lager, which was very similar to a Yuengling.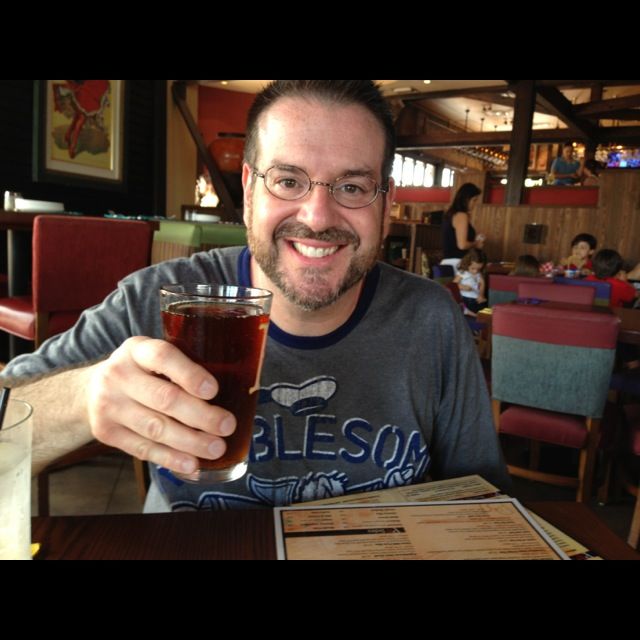 By now, it was 345, and we still didn't have our room. We had plans to meet up with friends at the quiet pool. We hopped on a boat, and got back to the resort, where we were told our room had been ready at 11am, and that a text had been sent. They even had my cell number correct, but I assured them I hadn't received a text. No apologies. I wasn't in the mood to argue, as I was very hot and even more tired, so we just got our room assignment, and headed for our section. On the way, we saw our friends at the quiet pool. We said hellos, and went to our room, changed, and went to the pool for a much needed, relaxing evening, having a couple beers, and catching up.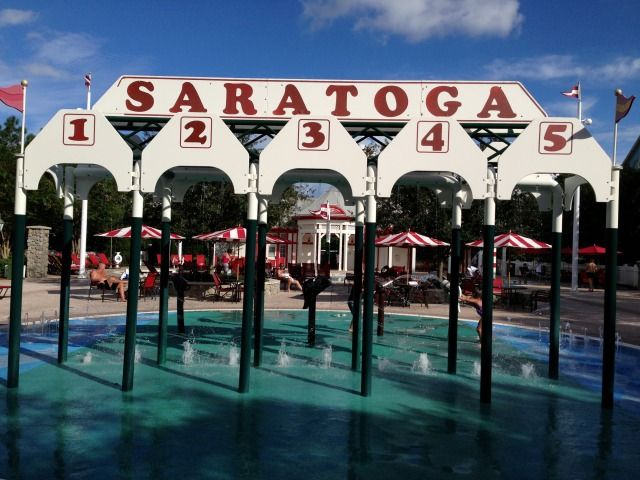 Turned in early, but of course, I had a hard time getting to sleep!
Day 2: Monday, October 8th
Up way too early. I have had trips where I didn't sleep well, and anyone that knows me knows this, but this trip was a new record. I maybe, maybe slept 5 hours that night. This is after getting 4.5 the night before. This almost certainly contributed to what happened later in the trip. But I don't want to get ahead of myself, so…

We were at EMH rope drop at the Animal Kingdom at 8am.

Rode Kilimanjaro Safari, which, despite the early hour, and not overbearing heat, was fairly light on animal activity. We did see a baby rhino however, which was a first for us.

Then we headed over to Expedition Everest. Barbie, my wife, rode. My Everest days may be behind me for good, as I have started getting motion sickness, especially during the backwards portion of the ride. I notice it is especially bad if I haven't had a decent nights sleep, which I certainly did not. So I passed.

We then headed over to Dinosaur, which I love. Rode that, then grabbed a coffee, a bagel and a brownie at a cart.

Then headed over to "Art of Animation Resort" to check it out. What a fun looking resort!
This is maybe the most Disney resort of all.
The lobby is beautiful.

There are 4 themed areas, my favorite was the Cars section.

We had lunch at the food court, "Landscape of Flavors", where we split a regular burger (meh), and a chicken burger, (very good!).

We headed back to SSR, where I managed to take a nap!
A whole hour!
That was just enough to get me through the entire Mickey's Not So Scary Halloween Party!

Barbie and I headed over to the Magic Kingdom about 430-5pm, dressed as Pirates. I had brought a long pair of "pirate" pants, and a pair of those fake wrap around leather boot tops, and a pair of leather shoes, but as it looked like it was going to rain, and the humidity was very high, I went with shorts instead.

We took pictures, and got our first pack of Sorcerers of the Magic Kingdom Cards.

We met up with our friends about 6.
Left to right:
Tom, Derek (as the Angry Warrior Gingerbread Man, the most popular costume of the night, kids LOVED him!), his wife Jackie, their son Dillon, Barbie, and Pam.

We did Monster Inc Laugh Floor and Buzz, then Pam and Tom treated us to dinner at Cosmic Ray's. We did some trick or treating, and rode Dumbo.
Here's something you don't see every day.

More trick or treating, and we headed over towards the hub, where we got a great spot for HalloWishes.
 We stayed in that area for the 2nd Boo To You parade, which turned out to be a great spot, right where the parade goes around the hub.
At one point, Lady Tremaine, Anastasia and Drizella were behind us, hooting at the cowboys in the Clara Cluck float section of the parade. It was a very fun, unexpected, and surreal surprise! We posed for pictures with them, sadly, mine didn't come out, but here's Barbie with Ana and Driz (as I called them).

We then did some more candy gathering, and rode Haunted Mansion. 
We said goodnight to our friends, and Barbie and I rode Pirates of the Caribbean. By the time we were off the ride, it was after Midnight, and things were shutting down, so we headed for the bus and back to the resort.
Day 3, Tuesday, October 9th
We headed to the Magic Kingdom a little after 9:00am and rode Peter Pan's Flight with a couple of Fastpasses sent to us by a friend, and then had a couple of Mickey Premium Ice Creams for breakfast.
We got a call about 10am from a couple, Peter and Marilyn, we met while on the DCL Alaskan Cruise in May/June, who live locally, and met up with them.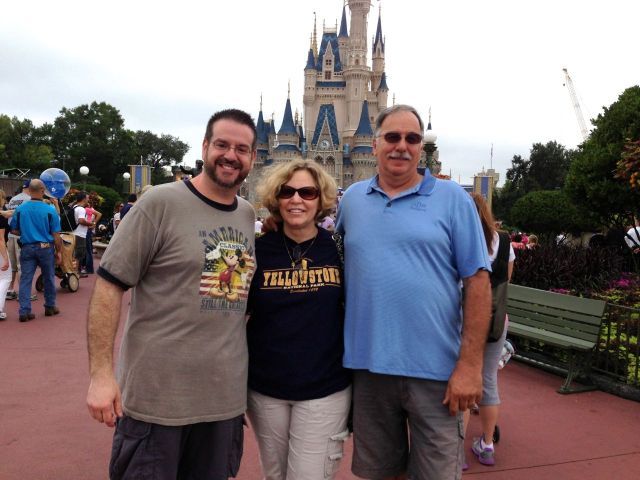 We headed over to Storybook Circus, and checked out the shop, Big Top Souvenirs.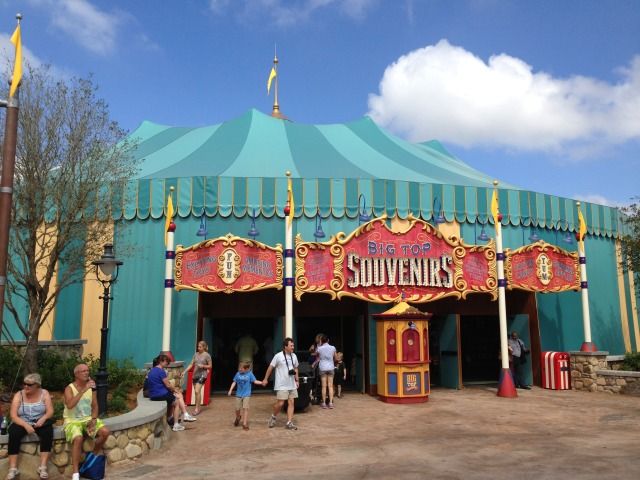 Then we headed over to Dumbo, the wait was 30 minutes, and we had 11:30 lunch ADRs at Tony's, but we grabbed a pager and went into the wait area.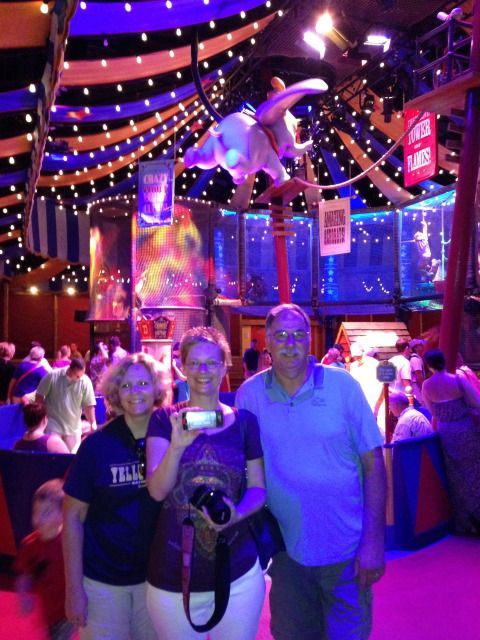 At about 11:20, we decided we should just bail out, so we said goodbye for the moment, and headed for lunch.
We really enjoyed our lunch at Tony's! We split 2 flat breads, and would absolutely return for more.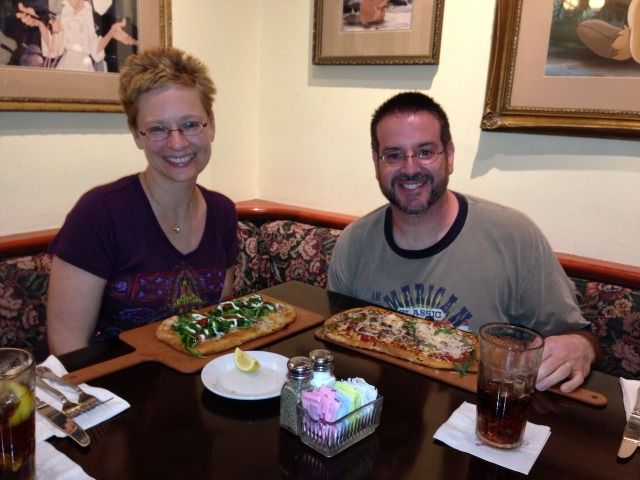 When we were just finishing lunch, we got a call from our friend, Pam. They were heading back to Storybook Circus. After we finished, we headed up to the Main Street Train station, and took pictures of the MK while waiting. It was a beautiful day.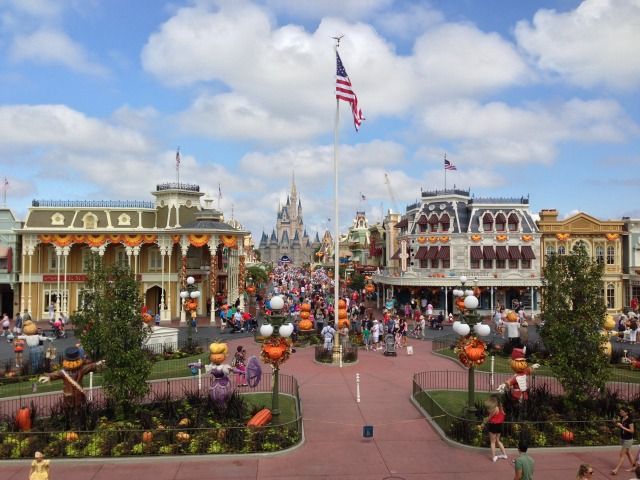 We hopped a train back to Storybook Circus and called Pam, who said they were heading to lunch at Columbia Harbour House. We told them we'd meet them after riding Barnstormer, using our last 2 Fastpasses. When we were just about to board, Pam gave me a call telling me that cast members were asking people in to see a new attraction in Fantasyland, Enchanted Tales with Belle! As soon as we got off Barnstormer, we headed over.
Sure enough, we were invited in! I wrote a full review of it, and that can be found here. It's a DON'T MISS!
If, like me, you don't want to see "spoilers" I will just share this one picture.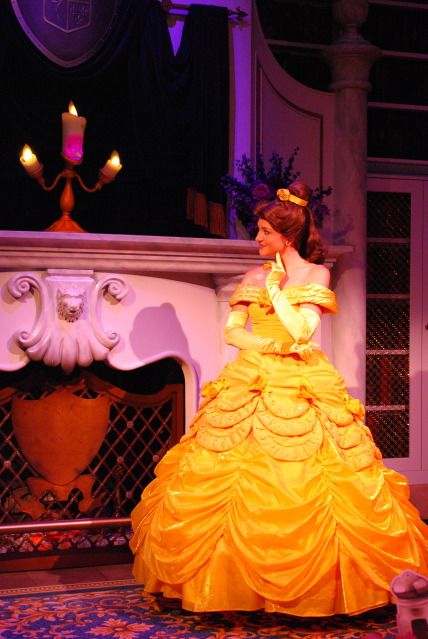 We loved it!
Barbie and I met up with Pam and her family at Columbia Harbour House and we headed over to Pirates afterwards, but they were closed for the day for maintenance, so we rode Jungle Cruise instead.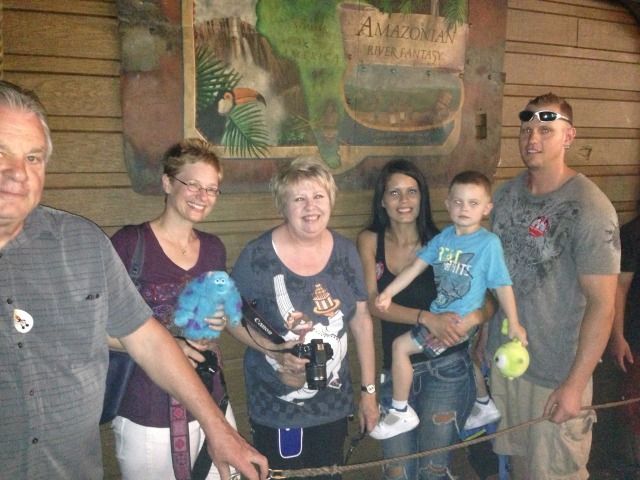 We parted ways, to go back to our respective resorts to rest. I dozed off for a little while, and woke up ready to enjoy the Food and Wine Festival, so we headed to Epcot.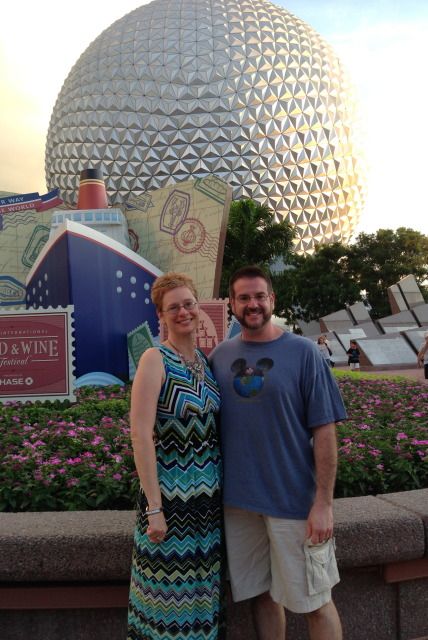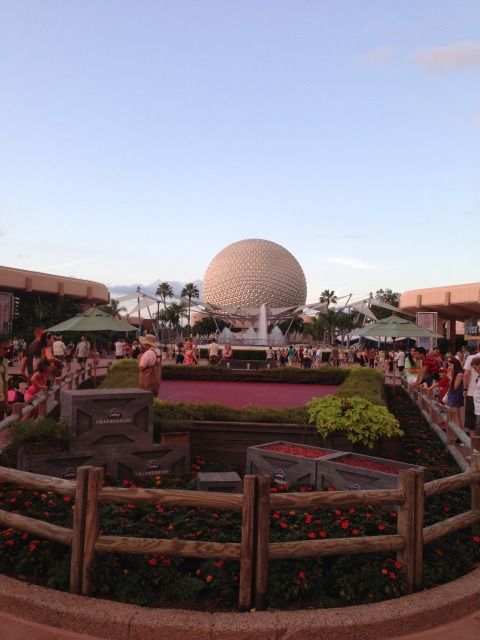 We met up with Peter and Marilyn, Pam's family, and an unexpected surprise, a couple we hadn't seen in a long while, Kathy and Ron, were also there! It was a nice evening, and we had some food from booths, as well as La Cantina (thanks Pam!), and a few beers as well.
We watched Illuminations, and Pete and Marilyn were so kind as to drive us back to SSR afterwards.
There's even more coming! Check back tomorrow!