Author, Nick the Disney Devo. Photos by Nick and his wife, Barbie.

To see part one click HERE
Day 4: Wednesday, October 10th
Our friends Peter and Marilyn had some beer for us, so they picked us up and gave us a ride over to the Boardwalk Resort, where we stayed for the last 3 nights of our trip.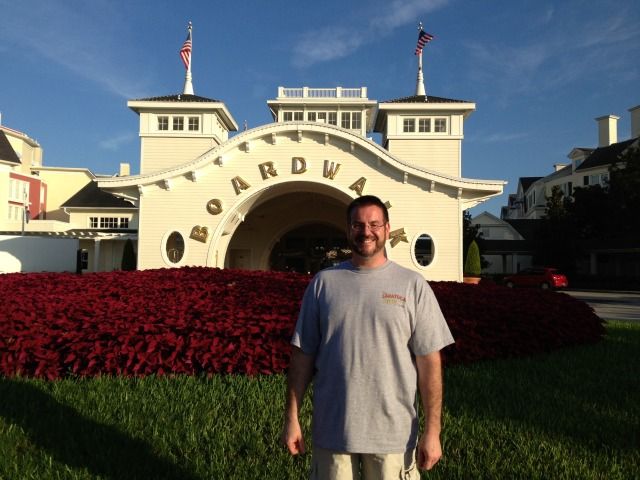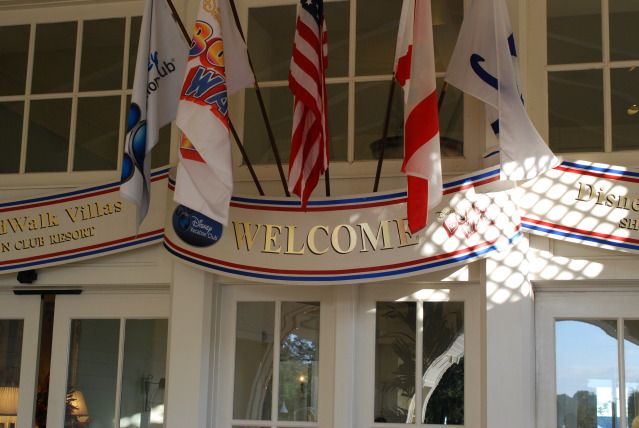 We checked in, and then went over to Epcot. We rode Soarin', and walked through Mouse Gear.
We headed over to the Food and Wine Festival Center next, and tried out the Ghirardelli Drinking Chocolate. Great stuff!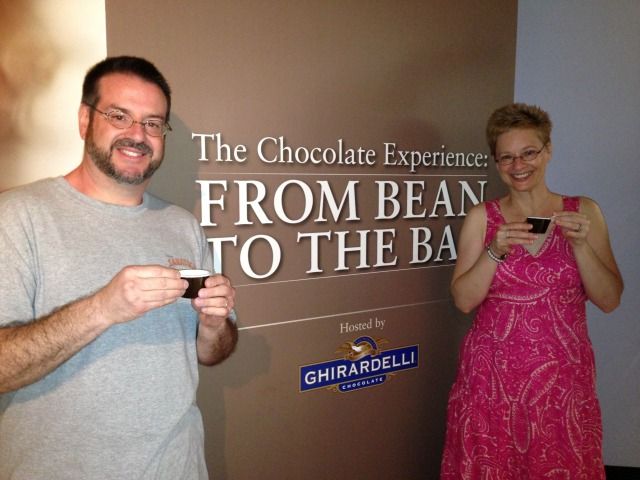 Washed that down with a coffee from the Chase Lounge, which was directly behind the Ghirardelli section. This is a free lounge for Disney Chase Card members, where free coffee and tea were available.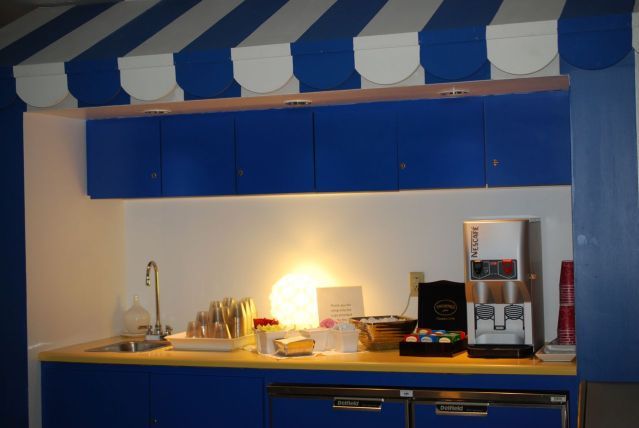 You could also check out an interactive Festival display.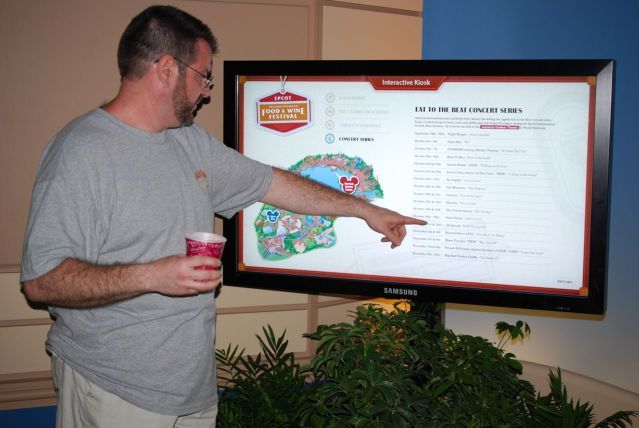 This is also where you can get wrist bands to admit you to the special seating area for Eat to the Beat concerts and for a special viewing area for Illuminations.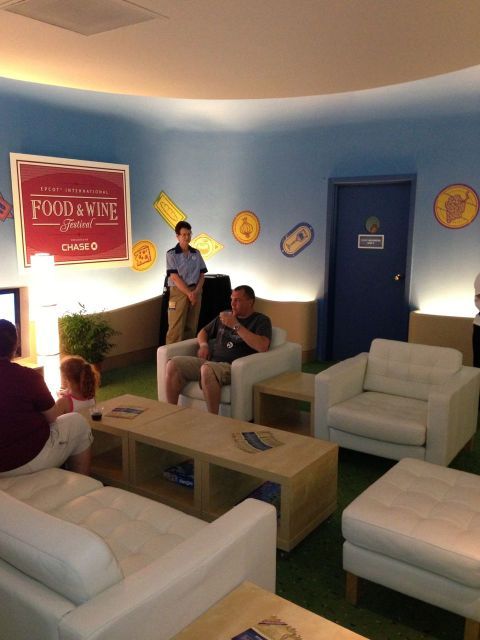 We got a text saying our room was ready about 11am, so we headed back to the Boardwalk. We had a Boardwalk view on the 2nd floor. Room 2029 is directly over the outside seating area of Big River Grille.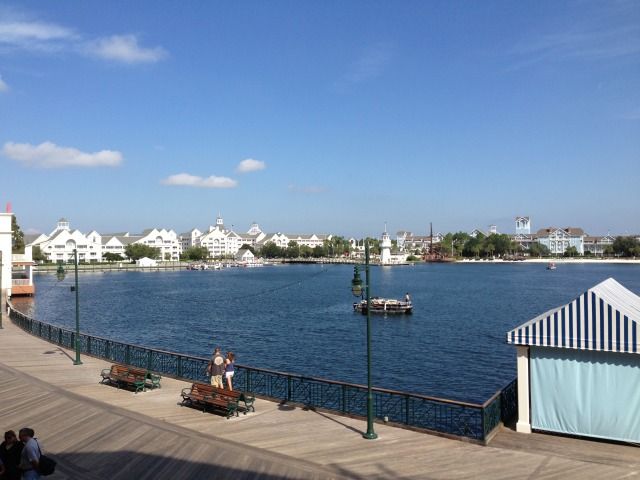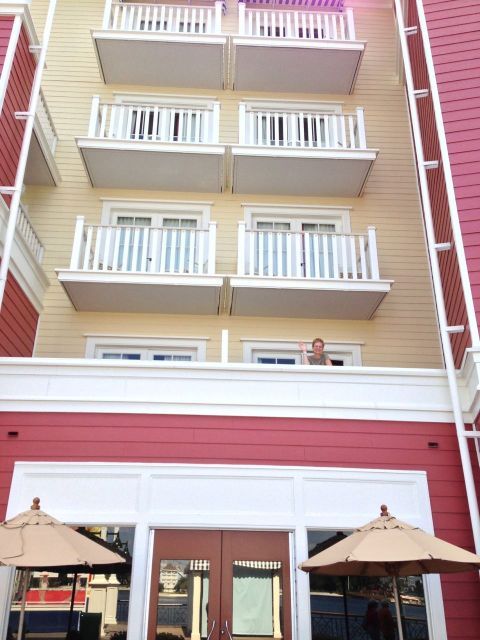 We checked in, and then headed back to Epcot where we met up with a few Facebook friends from a Disney fan page, the Disney Maniacs.
Left to right: Joe, Pooh, Chrissy, Kris, Paul, Barbie, Tigger, and Me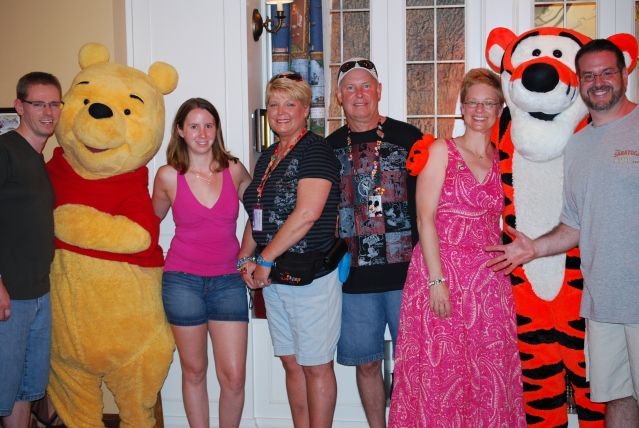 We had a good time eating and drinking around the festival.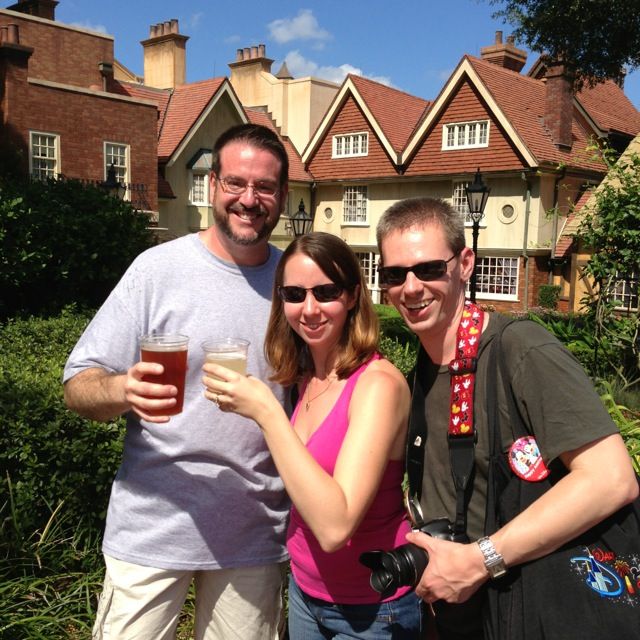 We met up with Pam and her family back at the Boardwalk, where they very generously gave us groceries they had left over. We said goodbye, and we headed back to Epcot.
We met back up with Joe and Chrissy in Italy, and had a couple drinks. They went off to to dinner, and Barbie and I had fish and chips in the UK. On the way, we stopped by the pin cart over there, and bought a pack of the Epcot 30th Mystery Pin set.
This is Chloe, one of the wonderful cast members we had the pleasure of interacting with on our trip.
I wrote all about this experience, as well as the pins on the other blog I write for, Disleelandia.
We were supposed to meet up with the group again for Illuminations, but I was really worn out at this point from the lack of sleep, and in hindsight, this may be the beginning of the very bad cold I was about to come down with. Or maybe it was just all the beer!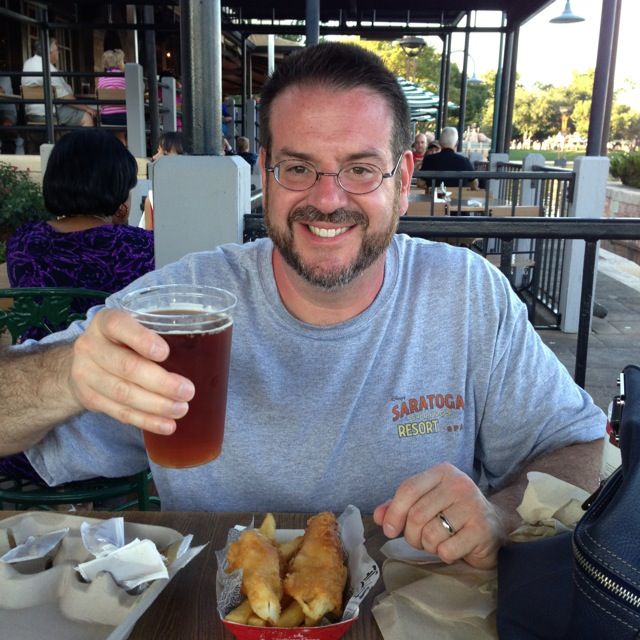 On the way back, we saw Brian the magician on the Boardwalk, just starting his show, so I stopped to watch. At one point he asked if anyone had any $5 or $10 dollar bills. I walked up, and as I was pulling out a $10, he reached in my wallet and grabbed a $100! I did eventually get it back, I think! If you've never seen his act, he is hysterical, check it out. (Psst Brian, give me that other $100 you promised!)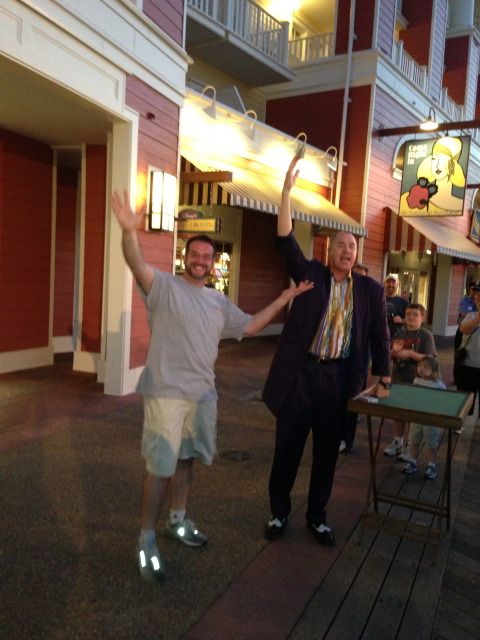 We headed to the room, and I enjoyed one of the beers Pete and Marilyn gave me while we watched Illuminations from the room.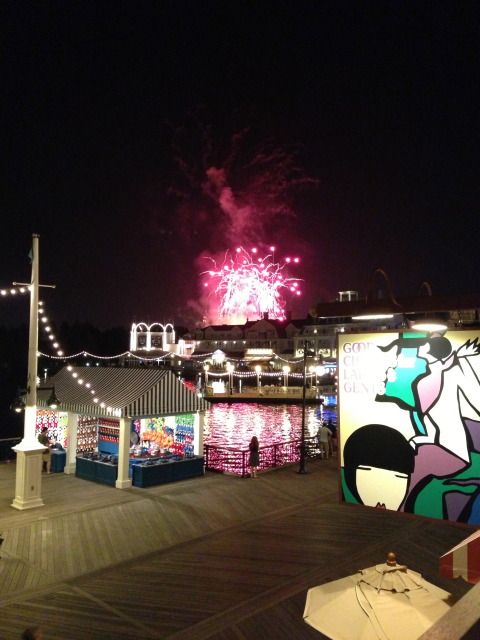 Day 6: Friday, October 12th
After a rough nights sleep, I woke up with a full blown sore throat. But, I had the "Keep Moving Forward" Segway tour over at Epcot, so, I was excited, and up and out by 8am.
I had wondered if getting into Epcot through the International Gateway was going to be an issue, but when we got there about 8:10am, we were simply asked our names, and we were on a list! Awesome.
As anyone who has been in the parks early can attest, it is awesome for photos. We took a lot of pics of the UK and Canada on our way through World Showcase.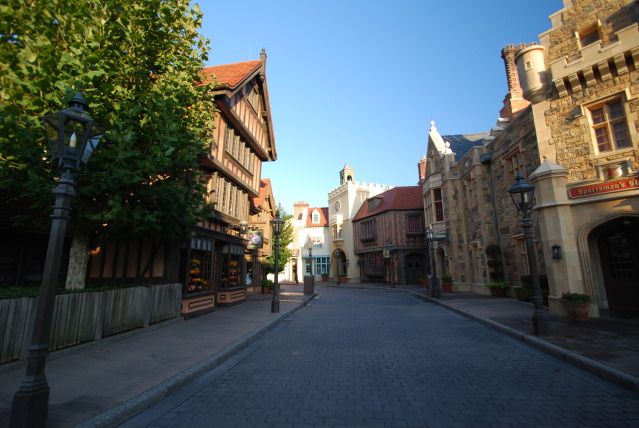 We got to Guest Relations, which is next to Spaceship Earth about 835, and checked in.
At 8:45am, we were taken over to Innoventions, given helmets, a safety talk, and then picked our Segways. We practiced riding for about half an hour, and then we were off to the Land for breakfast at Sunshine Seasons.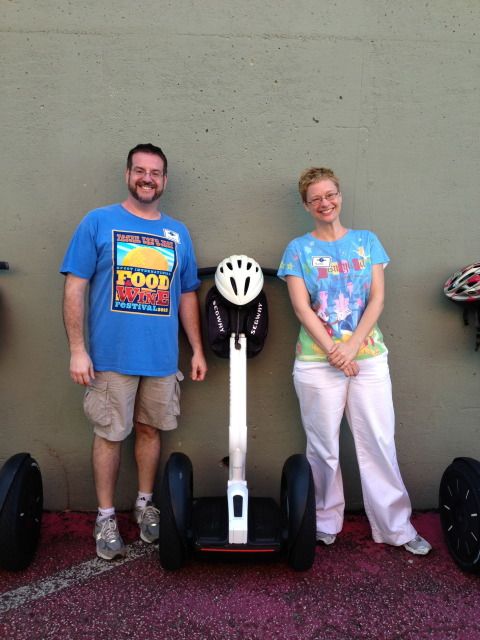 After breakfast, we were off for a tour around World Showcase, where we stopped in each pavilion, and learned trivia about each one.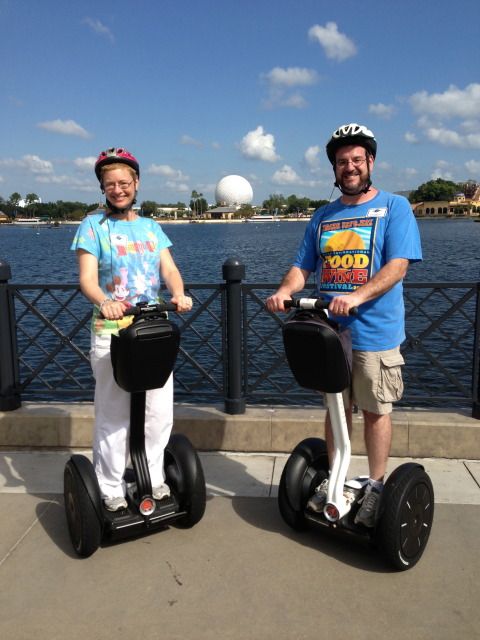 This was a really fun tour, which lasted about 3 hours, and I will absolutely do more Segway tours in the future.
As we were leaving , we happened to hear two Cast Members say they'd heard that Little Mermaid was opened at the Magic Kingdom.
I turned to Barbie and said, "Monorail!".
On the way to the Monorail, I got a call from Pete, asking if we were free in the evening. I said sure. I told him we were heading to the Magic Kingdom because we'd heard Mermaid was open. He said that according to the internet, all of New Fantasyland was open!
That Monorail never moved so slow.
We got there, and, if you are interested in an in depth look, check out this post.
But if you don't want a lot of spoilers, though it is almost impossible to avoid pics of Fantasyland at this point, here are a couple photos.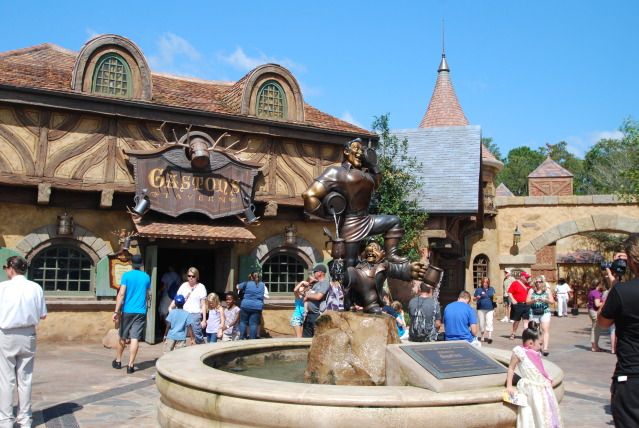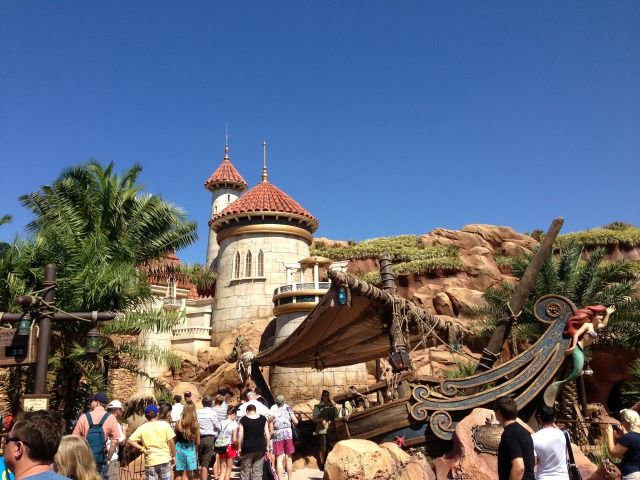 We headed back to the Boardwalk, and got a call from Pete a little while later. Barbie and I headed back to Epcot, and had a few more Food and Wine stops, before meeting Pete and Marilyn at Canada.
By now, I was pretty congested, and started sneezing. It was pretty evident I had a full on cold.
We walked around World Showcase to the American Gardens Theater, and watched Smashmouth for a bit.
We had plans to meet some Disney Maniacs at the River Roost, at Port Orleans Riverside, to see Yeeha Bob, and I decided to soldier on, and I'm glad I did. Not only did I have a great time at a really fun show, but I met some really nice new friends.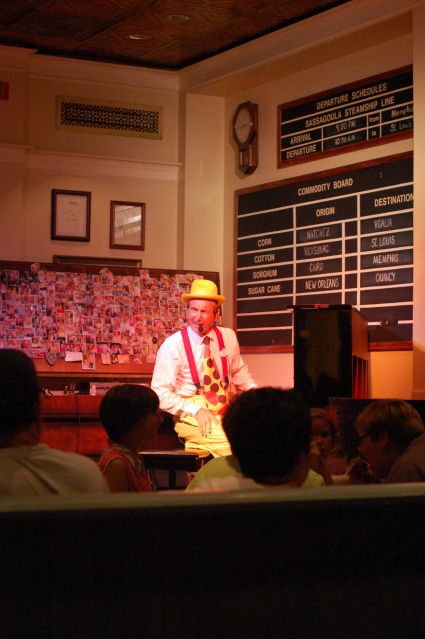 Left to right:
Marilyn, me, Beatrice, Bob, Kris, Paul, and Brent
Peter and Marilyn drove us back to the Boardwalk, where we said goodbye till next time. I took some Nyquil, and luckily fell asleep quickly.
Day 7: Saturday, October 13th
I had a rough sleep, coughing and sneezing all night, and woke up with maybe the worst cold I've ever had. At least since the last cold I ever had. It was very unpleasant.
We packed, and I sat until 10am, when we decided to try to get at least a little fun in. We checked our bags, and headed to Hollywood Studios via a Friendship Boat.
We had a bite at Starring Roles, and rode the Great Movie Ride. We headed over to Muppets, but I was fading fast, and they were holding people outside until the next pre show was to begin, I decided I was done. I really should have read Disney Diva's article on What happens if I get sick at Disney World and her medicine checklist reccomnedations.
We headed back to the Boardwalk, and just sat outside watching the water until, at 2:30pm, when we got on Magical Express to the airport.
I know, not the happiest of endings to a vacation, but those were the facts.  So I will leave you with one last happier photo:
Please stop back for a review of many of the things I wrote about briefly here, such as a look at Yeeha Bob, the Keep Moving Forward Segway tour, and the Boardwalk Villas.
Nick